KEEP CHRIST IN CHRISTMAS POSTER CONTEST
The St. Teresa's Parish Knights of Columbus Council #7702 are conducting a 'Keep Christ in Christmas' poster contest. This contest is open for children ages 5-14. Posters submitted must be on 11x17 paper and accompanied by an entry form.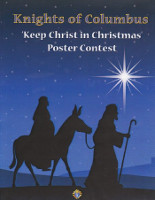 The name and age of the entrant should also be printed on the reverse side of the paper. Your poster must be an original work and reflect the theme of 'Keep Christ in Christmas'. Posters are due by Thursday, December 15, 2016. There is a prize of $50 to the winner in each age category (5-7, 8-10, 11-14), and the winners' posters will be submitted to the District level for further judging with the possibility for more prizes! Good luck to all participants!
---
Advent Reconciliation Services: All services will be held at 7:00 p.m.
St. Pius X Wednesday, Dec.14
Basilica Thursday, Dec. 15
St. Patrick's Monday, Dec. 19
St. Teresa's Tuesday, Dec. 20
Corpus Christi Wednesday, Dec. 21
---